Do you know what
the Summer Palace, Forbidden City, Temple of Heaven
in Beijing and Chengde's Mountain Resort sites have in common? All of them were built by a dozen members of the Lei family, architects for eight generations, and their creations are today known in Chinese as Yangshi Lei, meaning "Lei style" architecture. Fast forward to the present, and the architecture of China seems to be following only one style - strange, perplexing, and of course, enormous. After monitoring trends closely, we have made a list of the
 10 most instragrammable buildings of China
:
New library in Tianjin
Is it a real library or just background for the latest Instagram photo? All the images show people walking around with the latest smart phone in their hands but not the books. Can anyone advise if you need to be a member of the library to get the best Instagram shot?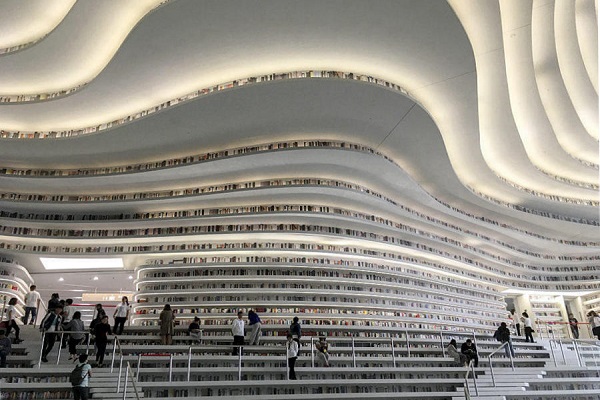 The Piano House in Anhui
Some people say it's the most romantic building in China - I'm not sure about that but it's certainly one of the most distinctive! It was designed by architecture students at Hefei University and constructed from transparent and black glass  in the shape of a violin that houses the staircase and escalators, and a grand piano that is the main building.
The Shanghai Tower
The Shanghai Tower has the world's highest observation deck within a building or structure (Level 121, 561.25 m), and the world's fastest elevators at a top speed of 20.5 metres per second (74 km/h; 46 mph). It is the world's second-tallest building by height to architectural top.
The Birds Nest in Beijing
Open just in time for the magnificent 2008 Olympic and it's called Beijing National Stadium or the National Stadium, but best known as the Bird's Nest or just simply a stadium in Beijing.
Guangzhou Opera House
Is it a rock or a house? It was designed by the famous architect Zaha Hadid who conceived the idea as two rocks washed away by the Pearl River. It does look spectacular on Instragram but it's not seen very often. Who goes to Guangzhou?
Chongqing
Cities are very popular on Instagram but people are getting bored of Hong Kong and old Shanghai. A new city has been declared as the World's fastest-growing tourism destination – Chongqing. It looks magnificent…during the night when all the lights are switched on.
Beijing South Railway Station
To house their high speed trains, the Chinese government decided to build a depot in Beijing in the shape of a saucer. Yes, a saucer. Actually, it feels a bit like an airport, it's so spacious and modern, but you really need to see it from above to admire the architecture - find the bird's eye view shots on
Instagram. 
Forbidden City
I was under the impression the Great Wall would make this list but it seems people prefer an image of the Forbidden City. Any idea why?
Sheraton Huzhou Hot Spring Resort
Also known as "Horseshoe Hotel" and "Doughnut Hotel" due to its geometrical shape which looks amazing when the lights are lit.
Underpants of Beijing
Or the CCTV building. It involves two L-shaped high-rise towers linked at the top and the bottom at an angle to form a loop.
My favorite is the Grand Hyatt Hotel In Shanghai - not because they have the best bar in the city called Cloud 9, but because of the atrium of the hotel. Highly recommended for getting vertigo.